Mary Poppins Magical Play is a free 6-week workshop designed to build and strengthen relationships between parent and child.
Parenting can at times feel overwhelming, hard work and stressful…
That is because it is!
Here at Mary Poppins Magical Play, we offer a safe and non-judgmental space for both parent and child, to experience and learn ways to engage, play and bond with one another.
Mary Poppins Magical Play also supports parents or secondary caregivers of children aged 0-4yrs who are or have experienced a range of psychological distresses, such as 'Depression, Anxiety, Pre/Post-natal depression and PTSD'. Parents and children will be encouraged to express, ponder, thoughts and feelings through play.
Over the course of 6 weeks, parents and children will explore three main areas of play.
The sessions are:
Session 1 – 09/09/2019
Session 2 – 16/09/2019
Session 3 – 23/09/2019
Session 4 – 30/09/2019
Session 5 – 07/10/2019
Session 6 – 14/10/2019
The first two weeks will focus on Sensory play. This will involve messy and water play, so please dress appropriately and bring a long a towel or two. Sensory play is a great way to discover ways to connect and to calm an anxious parent or child.
The next two weeks will cover Rhythmic play. Parent and child will be able to dig into a range of emotions and strengthen bonding through sounds and movements.
The final two sessions will end with attachment in play and drama. Parent and children will be free to learn to develop their own unique and personal magical play games.
Mary Poppins Magical Play welcomes both new parents and experienced parents( mums and dads), or secondary caregivers, babies-pre-schoolers (0-4), to come on an adventure of magical learning, discovery and connection.
Adults must bring children with them to all sessions!!
Once tickets are booked, our administrator will be in touch to get further details from you. If we do not receive a response within 3 working days your tickets will be cancelled.
Parking is available at Stafford street car park. The below map can show you the location of the car park & The AoC –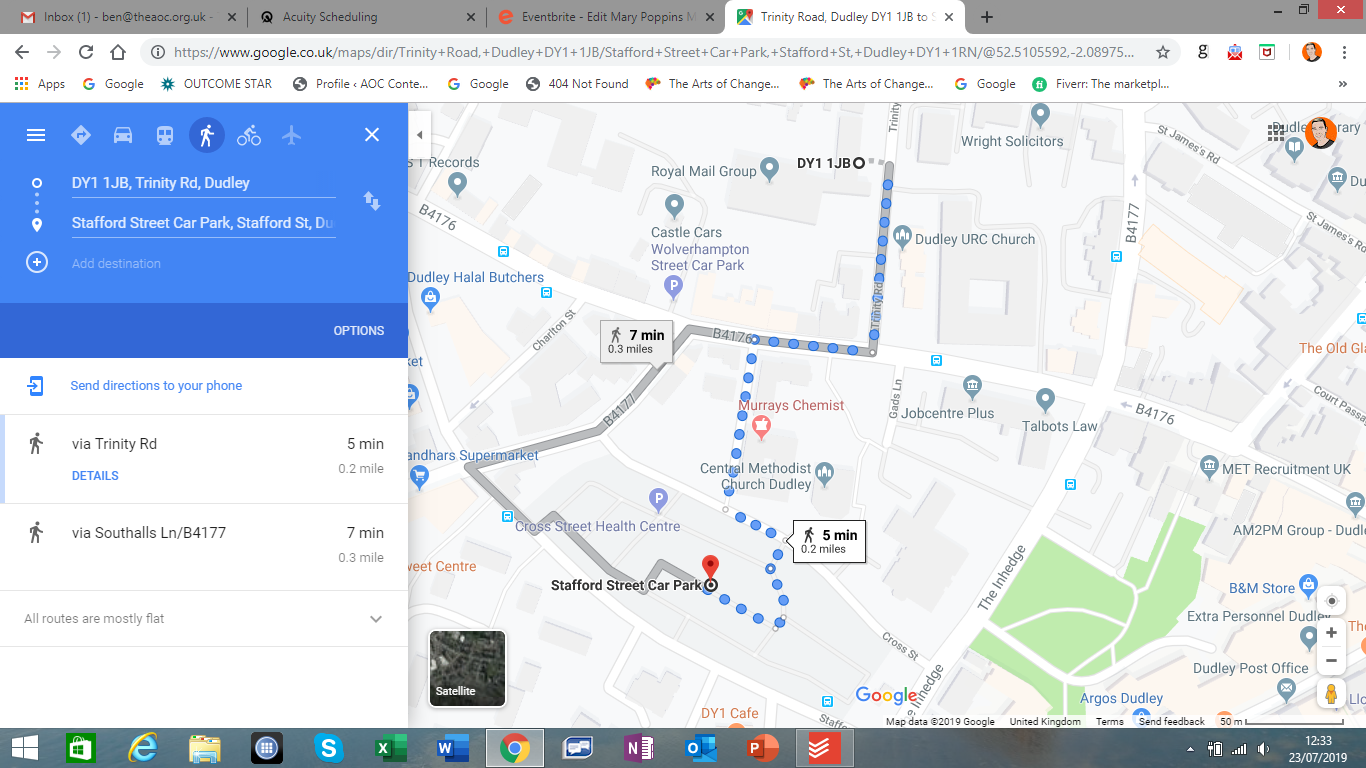 If you would like to make a donation towards The AoC Trust at the end of sessions or the workshop then you will have the opportunity to do so. Please speak with the workshop leader or any member of staff.
You can book tickets to the event at the following link – https://www.eventbrite.co.uk/e/mary-poppins-magical-play-workshop-tickets-69170560007